Home
Authors
Books
Ghost Writing
About Us
Contact Info
Book: 42 Rules of Marketing:
A Funny Practical Guide with the Quick and Easy Steps to Success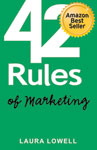 The 42 Rules series offers busy business leaders, like me, an opportunity to get our ideas out there in a clear, concise and fun way.  The books, the webcasts, and the push emails are a huge benefit to authors seeking marketing support for their books."
Chris Muccio, Author of "42 Rules to 24-Hour Success with LinkedIn"
www.LinkToProsper.com
About Us
Super Star Press

was founded to help independent professional establish themselves as experts in their field through writing, publishing and marketing books.

Publisher and Executive Editor: Mitchell Levy
Mitchell Levy, CEO, Happy About® is a strategist, educator & prognosticator helping companies succeed by putting tools in the hands of corporations and individuals to allow them to create their own success. Books are his latest and most powerful toolset.

Get your free book evaluation – complete this short questionnaire and we'll provide feedback on your book idea.